Welcome to a chat between two teachers!
Marie Dočekalová
The interviewee is very experienced teacher Pavel Lutner from Havlíčkův Brod in the Vysočina region. He is 51 years old, married with two children. He works as an elementary school teacher in Havlíčkův Brod. He can play many musical instruments. Music has been his passion throughout his life. He has been a member of many musical groups. From time to time he performs his own songs on guitar at local events.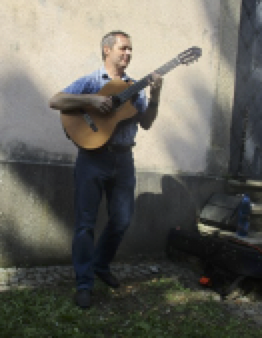 The interviewer is myself – a newcomer at the Faculty of Education of Masaryk university in Brno. I live in Žižkovo Pole with my family (husband and three children, aged 4-9 years) and two dogs. I work as a teaching assistant at an elementary school in Přibyslav. Between 2004 and 2009 I lived in the UK, working and travelling around that lovely country. English has always been my favourite foreign language (I have studied French and German as well). My dream is to become a fully qualified English teacher. This interview is very special for me, especially as the start of my first semester has been so challenging. It is not easy to juggle my full-time job, dedicate my time to our children and study as well …So I am keen to hear any positive information or advice from somebody who really has something to say about teaching. So get yourself a cup of tea or coffee and enjoy the read!

Welcome and thanks for joining me for this interview! How would you describe yourself very briefly?
I am a creative teacher and songwriter.
Currently, all schools are closed due to Covid-19, so I would like to ask about how you teach your class these days. Do you prepare online lessons? (The interview was conducted on 17th October 2020.)
I have made a website for my pupils where I post the materials and share the video links that can be accessed on Youtube. My recordings are available to explain the subject matter in more detail. The children can then discuss with me anything they do not understand via online chat.

How do you recall your own university studies?
I studied at the Faculty of Education of the University of Hradec Králové. I had met some excellent teachers there. I still remember some of them – Mr Svatoš, Mr Pastiřík, Mr Bohadlo, they were all so great.

How would you describe your practical teaching experience during your studies?
I would like to thank Professor Svatoš in particular. It is unbelievable that at that time (before 1989, still in the era of communism) thanks to him we had had such modern seminars. He asked us to record ourselves and then we reviewed the recordings. We began with short recordings of our teaching (longer ones came later), and we discussed our behaviour and gestures. We talked about how to work with our voice, how to use the appropriate voice technique etc. He taught us how to write articles, speeches, screenplays and lesson plans. He always gave us very constructive and honest feedback, and I also got feedback from other students. We performed our own analysis on these recordings. I consider this technique great preparation for the job. Although it was hard for us at the time, since then I have never experienced such a mix of creativity and difficulty with such huge value for the students. I have experienced other demanding professors, but this particular one chose an approach that was very beneficial for all students, and I appreciated his work very much.

Do you remember your first day as a schoolteacher? What was it like?
I do remember that day, and it was not an easy one at all.
I was at a small school in a tiny village in the Vysočina region called Lučice. I actually taught two classes at the same time; one of them was the first year. This start was a bit hard for me but later I found out that this actually helped me to learn many things quickly, such as how to cope when teaching two groups at the same time, how to divide a group, how to compose a lesson to fill 45 minutes, how to channel attention in the right direction, and how to use different subject matter.

How would you describe the situation in education after the regime change that followed the Velvet Revolution of 1989?
I was at university in 1989, so I began my career in the period of "freedom". I have one amusing memory of a school inspector who after 1989 turned from the writing of regional books to the writing of school books.
Can you compare the children and their behaviour?
Is there any difference between the generation when you started your teaching career and the current generation?
I don't think there is a big difference between generations. Children are still children. We may notice minor differences because these days they have less physical activity. They tend to spend a lot of time in front of the TV or computer, or playing games on a mobile phone. But that is a change in society, not the children themselves.

Were you influenced by the birth of your own children? If so, how?
This definitely influenced me as a person and as a teacher. I believe teaching is more difficult for someone who doesn't have children. But that doesn't mean that you are a great parent if you are a teacher. They are different roles, and you have to learn both for yourself. But I think that being a parent has given me a better understanding of both teachers and parents.

Do you know anyone who has left the teaching profession? Have you ever thought about leaving at some point or have you ever tried a different job?
I know some who left teaching completely and others who left only to return later. I considered leaving about 15 years ago, for the reason that I did not feel that my job was appreciated enough "financially".

Would you recommend this job to your children?
Yes, I would.😊

In your opinion, what qualities should a good teacher have?
I think that a teacher should be a creative person. In my opinion, the level of creativity in this field is not good. Many of us are more like parrots. We should improve our standards of originality and creativity.

Can you imagine doing this job later, at the age of 65 or 70?
Yes, I can imagine working as a teacher at that age. But I don't think that would be good. I hope to be financially secure, so I can leave at the right time. I would like to spend my time teacher mentoring and doing music courses (guitar lessons for adults or children).

What do you think about the level of salaries in education? Are salaries adequate? Are you happy with your salary?
I think it is important to compare a teacher's salary with the average national salary. From that point of view, I'm happy.

What would your advice be to all new teachers?
My advice is simple: "Be happy, keep enjoying life and, most importantly, enjoy teaching. Bring happiness and joy into your classes." I wish this to everyone.

Thank you very much for your time, and good luck!
Thank you.