Kashmir, A Jewel in the Crown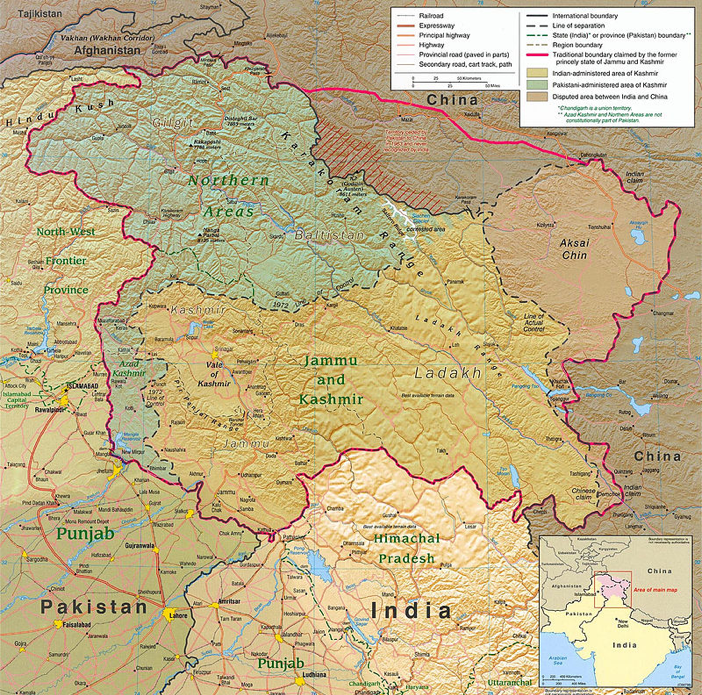 Lenka Procházková
When I was thinking what subject to cover this time – whether a story from my life or a place of interest or beauty – I was totally taken aback by news from a region where I had never been, yet had been close enough to know about, and where some of my friends live. That was on 14thFebruary – Valentine's Day.
I am going to take you back in time on a journey to the far, far east. It will partly be historical, partly my own reminiscences, partly the latest news which made me choose this issue.
Imagine the time when Gandhi, the Father of all Indians, united the nation in a mutual fight for freedom and against colonialism, which had long plundered the country. It was torturous at the start but Britain, being dragged down after WWII, both materially and morally, had no power to sustain such tendencies.
1947became a year of success. Completely new lines of history were written, changing the world forever. It was the year when Pakistan came into existence. They say the biggest exodus in modern history took place at that time, as thousands of Hindu people moved from the territory of Muslim Pakistan to India and vice versa. Clashes caused the deaths of thousands of innocent people.
At this point, we can start speaking about Kashmir. This was the next focal point of conflict between the free Indian democratic state and Islamic Pakistan. Kashmir used to be the jewel in the crown of all India. In the years of colonialism, India gave the British crown huge riches of all sorts. But later, when it all fell apart and two strong countries were to take the region, which was also very interesting in many aspects, who would claim it?
Unfortunately, both did. That's how the dispute started. Like the conflict in Gaza, it is a fight that never ends, never sleeps, never leaves its inhabitants alone and in peace…
Let's give some facts about this country of great beauty. Kashmir is a majority-Muslim region in the northernmost part of India. This mountainous, 86,000-square-mile territory was once a princely state. Today, it denotes a larger area that includes the Indian-administered territory of Jammu and Kashmir(which includes the divisions Jammu, Kashmir Valley and Ladakh), the Pakistani-administered territories of Azad Kashmirand Gilgit-Baltistan, and the Chinese-administered territories of Aksai Chinand the Trans-Karakoram Tract.
According to Burton Stein's History of India: "Kashmir was neither as large nor as old an independent state as Hyderabad; it had been created rather offhandedly by the British after the first defeat of the Sikhs in 1846, as a reward to a former official who had sided with the British. The Himalayan kingdom was connected to India through a district of Punjab, but its population was 77 per cent Muslim and it shared a boundary with Pakistan. Hence, it was anticipated that the Maharaja would accede to Pakistan when the British paramountcy ended on 14th–15thAugust.
"When he hesitated to do this, Pakistan launched a guerrilla onslaught intended to frighten its ruler into submission. Instead the Maharaja appealed to Mountbattenfor assistance, and the governor-general agreed on the condition that the ruler acceded to India. Indian soldiers entered Kashmir and drove the Pakistani-sponsored irregulars from all but a small section of the state. The United Nations was then invited to mediate the quarrel. The UN mission insisted that the opinion of Kashmiris must be ascertained, while India insisted that no referendum could occur until all of the state had been cleared of irregulars."
In the last days of 1948, a ceasefire was agreed under UN auspices. However, since the referendum demanded by the UN was never conducted, relations between India and Pakistan soured and eventually led to two more wars over Kashmir, in 1965and 1999.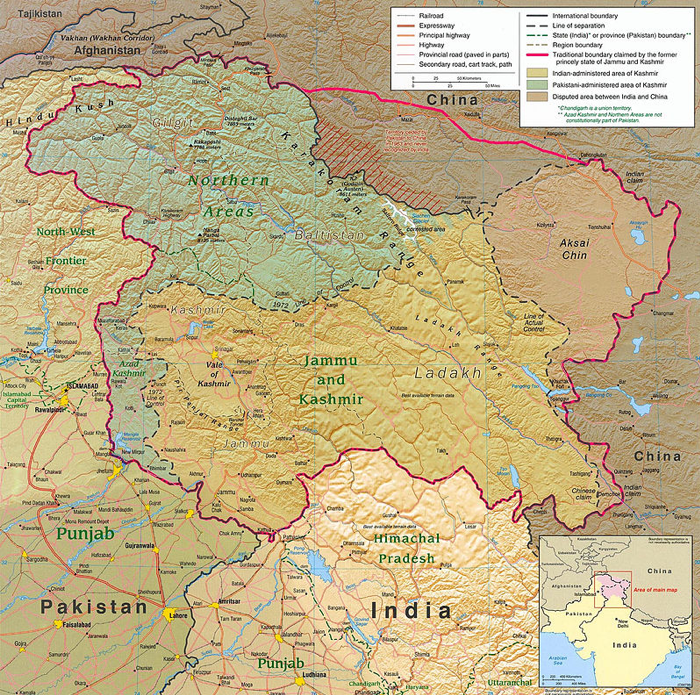 Britain had historically had separate electorates for Muslim citizens and reserved some political seats specifically for Muslims; that not only hemmed Muslims into a minority status, but fuelled a growing Muslim separatist movement. Mohammad Ali Jinnah, a politician who headed up India's Muslim League, began demanding a separate nation for India's Muslim population.
At the time, the princely state of Jammu and Kashmir, which had a majority Muslim population, was governed by Maharaja Hari Singh, a Hindu. Unlike most of the princely states, which aligned themselves with one nation or the other, Singh wanted independence for Kashmir. To avert pressure to join either new nation, the Maharaja signed a standstill agreement with Pakistanthat allowed citizens of Kashmir to continue trade and travel with the new country. India did not sign a similar standstill agreement with the princely state.
As partition-related violence raged across the two new nations, the government of Pakistan pressured Kashmir to join it. Pro-Pakistani rebels, funded by Pakistan, took over much of western Kashmir, and in September 1947, Pashtun tribesmen streamed over the border from Pakistan into Kashmir. Singh asked for India's help in staving off the invasion, but India responded that, in order to gain military assistance, Kashmir would have to accede to India, thus becoming part of the new country.
Singh agreed and signed the Instrument of Accession, the document that aligned Kashmir with the Dominion of India, in October 1947. Kashmir was later given special status within the Indian constitution – a status which guaranteed Kashmir independence over everything but communications, foreign affairs, and defence.
The term Line of Control(LoC) refers to the military control line between the Indian- and Pakistani-controlled parts of the former princely state of Jammu and Kashmir– a line which does not constitute a legally-recognised, international boundary, but is the de factoborder. Originally known as the Cease-fire Line, it was re-designated as the "Line of Control" following the Simla Agreement, which was signed on 3rdJuly 1972.
Another ceasefire line separates the Indian-controlled state of Jammu and Kashmir from the Chinese-controlled area known as Aksai Chin.Lying further to the east, it is known as the Line of Actual Control (LAC).
Former US President Bill Clintonhas referred to the Indian subcontinent and the Kashmir Line of Control in particular, as one of the most dangerous places in the world.
There have been countless battles and terrorist attacks, with each side always blaming the other. But I would like to mention two which I have witnessed myself. We can overlook the others and bring ourselves into the modern era.
I was staying in Bombay in the summer of 2006 when horrible blasts killed many passengers travelling on trains, which transport more than a million people per day. As my hotel was right next to the station, the rear side of the building collapsed due to the explosion. The bomb blasts took place at the very stations I used on a daily basis and were focused on the train cars which women with children and tourists use. It was blamed on Pakistan in all sorts of media. You may be wondering what happened to me – well, I was enormously lucky because one day before all this happened, I had managed to get tickets to Delhi and had left. These are mere facts, but I want to speak about the real impact of such attacks. When I returned, I found out that huge fear had spread. Twenty million people living together in one city had stopped trusting each other within a few moments. But it wasn't just fear – it was complete insecurity and paranoia! I wanted to visit friends, but I was told that I was a terrorist and that I couldn't. I wanted to attend an event that took place at a campus but received the same reaction and was banned from going there too. And it went on like that. I couldn't believe it!
When history repeated itself, I happened to be there again. It was the last day of my studies, in November 2008. I was packing and getting ready to go home when I sensed a very heavy atmosphere in places where everyone had always been so friendly. And then it started. Ten members of Lashkar-e-Taiba, an Islamic terrorist organisation based in Pakistan, started shooting in the streets, spraying bullets at random, killing foreigners in posh hotels. I learned of it at the airport, at the time of my departure. Once again, I had been lucky, but sadly, so many civilians weren't. Another explosion of fear and horror.
And something very similar happened recently.
42 Indian forces dead in worst Kashmir blast in decades: 14th Feb, 16:57 GMT.
So read a newspaper headline.
Car fitted with explosives rams into bus carrying paramilitary forces in Pulwama district of India-administered Kashmir.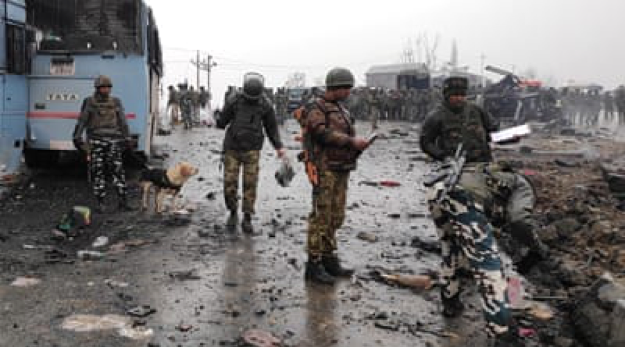 The reaction in India was like a tsunami. There is such a powerful sense of national unity and pride that the taste of revenge was too tempting.
India summons Pakistani envoy as Narendra Modi vows to exact 'heavy price' over deadly attack in Kashmir.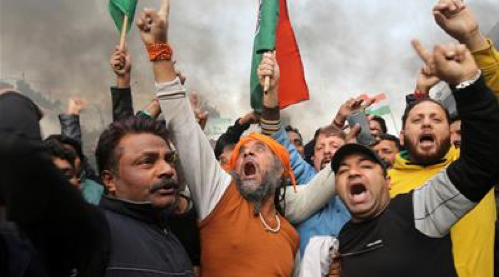 And now I would like to conclude with several perceptions from social media where I am involved and have mutual friends from both sides of the war.
One message from a very dear friend of mine living near the LoC region said, "They have sent jets today, bombing us, shooting on the line, we are scared."
I felt so depressed and so powerless, realizing that the only thing I could do was to pray for them. And a few minutes later a message from another friend came, but from the other side, saying this:
Our Responsibilities as Civilians When India is on High Alert
For the next six months at least, India is under threat of retaliation from our enemies. Here are some ways to behave as a responsible citizen during this time of national emergency.
1. "Loose lips sink ships." Your Facebook, Whatsapp & Instagram messages could go to our enemies within minutes. If you have friends in defence, DO NOT share their messages to civilian groups. Just be silent for a few months on security matters. Your brilliant insights may be just what the enemy needs to understand the Indian psyche.
2. Do not photograph or take videos of anything related to local or national security. No selfies with tanks or jawans. The enemy is monitoring social media activity, city by city and tracking our forces.
3. Google to see what your responsibility is as a civilian in times of war. Share more of what you find. Be a responsible Indian citizen.
The list was much longer, but I will keep it short.
How did I feel? An Indian friend forced me to block all my Pakistani friends, and my Pakistani friends forced me to block my Indian ones. This may seem to be a joke, but it is not. I was desperate, praying for both sides in the fight. My heart was torn in two. I felt more than depressed at this time. I kept asking myself where the humanity is within us. What have we reached? What have we become? We have all this high-tech and social media, yet we are unable to maintain any basic friendship. Being manipulated by information sources, I used to believe this never-ending conflict was indeed about India versus Pakistan. I no longer share this view. I believe it is some other bodies involved who pull the strings and always fan the flames.
If we lose our judgement, wisdom and heart, then what is left? What are we living for?