Lukáš Kačinetz
Indian cuisine is one of the most popular cuisines in the United Kingdom. It's jokingly said that the British national food is Chicken Tikka, and even the English football anthem of 1998 was about vindaloo. Brick Lane, mostly known as Curry Lane, is one of the places you should visit on a trip to London.
Sadly, there are only a few good Indian restaurants in the Czech Republic to really explore and enjoy the foodie experience of this spicy cuisine. Let's have a look at its history, basic ingredients, know-how and a few recipes.
History
Indian cuisine is influenced by the many minorities and religions that used to occupy India. It was formed by Hindu culture, which uses a lot of spices (pepper, turmeric, garlic etc.), and later on it was influenced by Muslim culture in the north of the country. Muslims contributed by adding many gravies, kebabs and bread. The last part of the mixture is a European influence, especially Portuguese. The Portugese imported many vegetables from the New World that are regularly used in Indian cuisine – most famously tomatoes, potatoes and chilli.
This combination was left together to simmer, and after a few decades, modern Indian cuisine was born.
Specific ingredients
Indian cuisine is well known for being really spicy, but it would be wrong to say that it uses only chilli peppers. Many forms of vegetables are used in this cuisine – spinach (Palak), potatoes (Aloo), okra, tomatoes, chickpeas (Chana), red lentils (Deal)and cauliflower, for instance. Vegetarians can often find Paneer in their meal, which is unmatured, non-melting fresh cheese. There is also variety of side dishes. Don't be surprised if the side dish is only a flatbread called Naan, flavoured with garlic. Rice is also very common.
Indian cuisine doesn't use much meat – the most common is chicken and lamb. You can also find quite tasty seafood varieties. It's also possible to use pork, especially in Guan recipes. Beef is completely out, for religious reasons. You can usually find meat in the form of chunks, which are easy to marinade, fry or to put on a skewer. Indian cuisine doesn't favour steaks of pork chops.
The big one – spices
There is a common misunderstanding in the Czech Republic – curry is not a basic spice, it's a mixture of many herbs and spices. Also, "curry powder" as we know it is not used in India; curry pastes are used instead. The pastes are fresher, spicier, more intensive and usually customized from small region to region or by dish.
They share common ingredients – chilli peppers, garlic, onion and ginger, usually with coriander or cumin seeds. For a nice tutorial on how to make them, you can look here at Jamie Oliver's webpage.
But remember – every good Indian restaurant should make its own paste. It is similar with "masala" – you probably know collocations like "Tikka Masala", "Garam Masala" or just "Másala". It means "spice mixture" and yes, the recipe differs from region to region. For example, the typical Tikka Masala spice mixture contains Garam Masala, cumin, ground coriander and turmeric.
Kitchen appliances and kitchenware
Indian cuisine uses surprisingly few specialized tools. Most Indian meals can be prepared using a big pan and a few pots.
There is one exception and that is tandoor. Tandoor is a vertical oven, usually made of clay or conventionally from metal (in order to cook indoors). It uses charcoal as fuel, and thanks to its construction, the temperature in the oven can be over 480°C. This enables the meat to be "sealed": crunchy outside, but really juicy inside. Personally, I've never tasted better chicken. It's really hard to replicate the effect of the tandoor at home on a BBQ or in the oven; the high temperature has a really special effect on the meat.
Recipes
First, let's have a look at one of the most famous Indian recipes, the vindaloo. A typical modern vindaloo combines Portuguese heritage, Goan spices and a few American ingredients (e.g. potatoes, tomatoes) in order to create "typical Indian food".
There are great debates about what this dish should include. The items in question are usually potatoes and tomatoes and, of course, the proper meat for the dish. The argument is usually won by pork or lamb, although chicken is one of the most popular meats.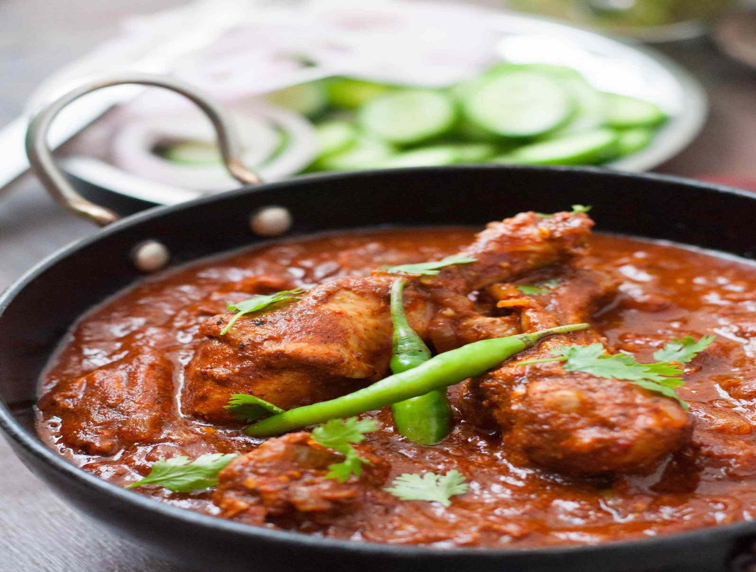 Source of the picture: Vashisht, C. (n.d.). Goan Chicken Vindaloo Recipe. Retrieved from https://www.archanaskitchen.com/goan-chicken-vindaloo-recipe
The recipe provided is the one that I use. It is a combination of many recipes. I consider this to be a typical, basic Vindaloo. You can of course experiment with your own. Sometimes I add plum jam, sometimes I don't. Vindaloo doesn´t follow one specific recipe…
You will need:
3 tbsp whole cumin
2 tbsp dried chillies
1 tbsp black mustard seeds
1 tbsp black pepper
1 tbsp turmeric
4 cloves
2 garlic
200g ginger
½ cup of vinegar
400g pork chunks
250g potatoes
3 onions
4 medium tomatoes
3 tbsp oil
Step 1: the vindaloo paste
We mention curry pastes in the article. Let's make a basic one. A typical vindaloo curry paste is made of whole cumin, dried chillies, black mustard seeds, some black pepper and four cloves; a good vindaloo has a sweet aftertaste. Roast these in a pan, then grind them in a food processor with garlic, ginger and vinegar. Also add a little oil for smoothness.
Step 2: the marinade
The next step to a proper vindaloo is to marinate the meat. Simply mix the chunks of meat with the paste and a little turmeric and let it marinate for a few hours in a fridge.
Step 3: Fry up!
Chop two or three onions and fry them in oil until they are dark. Then add the marinated meat and stir-fry for a while until the meat is sealed.
Then there are optional steps, such as adding a little tomato paste and stirring it in. This is also when you add potatoes to the mix.
Then lower the heat, add 1 cup of water or broth to the mix and let it simmer for 45 minutes. Stir every 10 minutes, so it doesn't burn. At the end, you can thicken the sauce using mixed root vegetables. Add salt to taste.
Step 4: Enjoy!
Serve the vindaloo in a bowl, withnaan or partha flatbread. Plain rice would do as well. And one last tip – if you've made a really hot vindaloo, it's a good idea to enjoy a lassi drink as a dessert. Just mix white yogurt, a little milk, mango and honey in a blender and serve chilled. Lactose helps us to digest capsaicin.
The second recipe I've chosen is one of the best and one of the most surprising marinades that I've ever tasted. It's Green Tikka Chicken.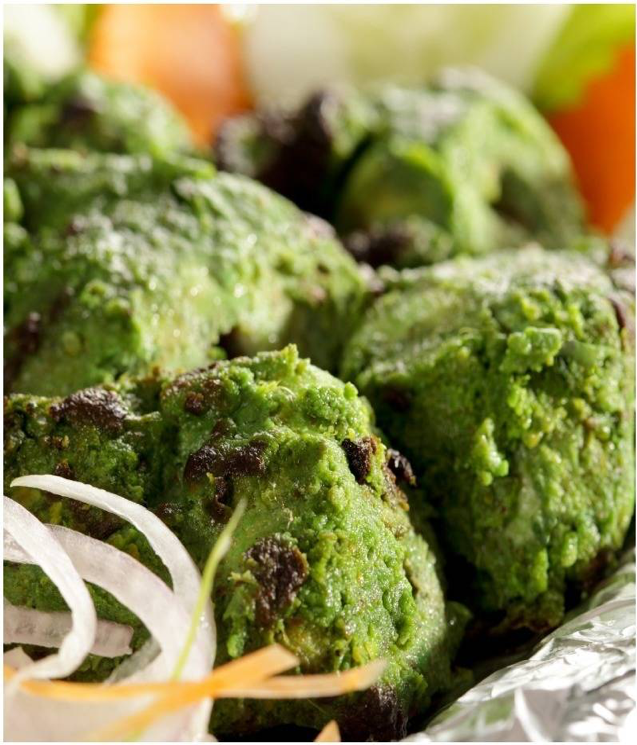 Source of the picture: Mint chicken tikka Recipes: Browse Best mint chicken tikka Food Recipes on Times Food. (n.d.). Retrieved from https://recipes.timesofindia.com/recipes/mint-chicken-tikka/
You will need:
3 chicken breasts
1 teaspoon powdered turmeric
2 teaspoons dry mango powder
1/2 cup yoghurt (curd)
1 1/2 cup coriander leaves
2 green chilli
2 teaspoons red chilli powder
3 teaspoons garam masala powder
2 teaspoons cumin powder
salt as required
1 1/2 cup mint leaves
refined oil as required
This marinade is really unorthodox for Czech people, becauseyogurt-based marinades are not common here. The combination of yogurt, spices and mint makes for a delicious experience, especially when done in a tandoor. The traditional method "seals" the juices and moisture in the chicken and creates a delicious crust.
Step 1: Make the marinade
First, blend all the spices together in order to create a smooth mix. Then add curd or yogurt and mix well until you create a smooth mixture.
Step 2: Add the chunks
Basically, you can marinate any cut of chicken: small chunks for BBQ on a skewer or in a tandoor, whole breast cuts, chicken legs with thighs, wings or quarters.
Step 3: Roast it
The best way is, of course, in a tandoor. Because many of us don't have one, you can use your BBQ or grill. Remember that first it needs a high temperature to seal; then you can put it aside and let the "trapped" moisture work. It usually takes 20 – 25 minutes to be done properly, but it needs a little experience to grill it properly.
We can serve this with salad or other BBQ side dishes. No special sauce is required.
So, that's all for today. All that is left to say is "Bon appetit!"