Tereza Frgalová
Netflix is a phenomenon that is slowly taking over the world. It has become very popular lately and is referred to in several series and movies, not to mention in online communities and the memes they produce – like, for example, in the picture below. It contains the famous expression "Netflix and Chill" – in other words, let's watch whatever we want and forget about our problems (although it also functions as a hidden invitation for sex – courtesy of the online community). Watching Netflix is similar to watching TV, yet very different. Let us take a look at how it changes video viewing.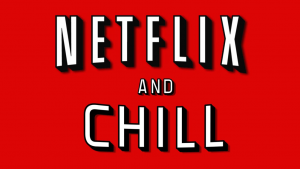 What exactly is Netflix? It is, expressed crudely, an internet television service. It offers, for a monthly fee, unlimited access to movies and series through an internet site. It lets you watch whatever you want, whenever you want. You can pause, stop and go back as many times as you like. You can choose to watch with or without subtitles. English subtitles are available for every video, and usually several other languages are included, e.g. German and/or Polish. No advertisements appear, either while watching or browsing the content of the site (side advertisements and such).
Netflix was founded in 1997 as an online movie rental service. In 1999, it became a subscription service, offering unlimited rentals for one price. Through the years, Netflix has shaped itself into the form it has today. It has added a personalized recommendation system, streaming (making instant viewing possible) and added new platforms like Xbox and iPhone. Netflix gradually added countries that could use its service, until finally it became world-wide in 2016.1
What makes Netflix so special? Firstly, the site remembers what you have been watching so you can always continue where you left off. When you don't watch something for a long time, it disappears from the list so it does not take up space. Every episode and movie has a brief summary, so it is easy to find episodes/movies you would like to re-watch, show someone or just to remember what has been happening. Every series has a description, age appropriate info, number of seasons, number of episodes and time per episode.
Netflix has a rating system. You can give anything a thumbs up or a thumbs down. This way you can make sure the site will offer you things you would like to watch and omit things you would hate. The site automatically records what you have already watched and offers you new content according to that data. When going to the interface menu you can also keep track of what you have already watched (which may be useful when monitoring children or adding titles to your ČSFD rating library).
In addition, you can create a "My List", where you can add titles you would like to watch in the future or things that you love and want to have ready at any time. You can add and delete things from the list freely. By having "My List", you can choose something that you have picked beforehand, instead of browsing through the lists all over again.
Suggested movies and series are shown in lists according to a characteristic they have in common. They appear in strips that can be browsed through and contain about thirty different titles. Some lists, such as "Top Picks for…" and "Because you watched…", are aimed specifically at the user. Some are compiled according to genre – e.g., "TV Shows", "Action" and "Comedies".
Although titles do not stay on Netflix forever, they are available for a long time. New titles are added continually; old titles are deleted from time to time. Some content is only available in specific regions (the US, the UK, Germany, etc.), but there have been reports of Netflix trying to fix that issue, so making everything available everywhere.2
When it comes to the account, the user can decide which type he/she wants. There are three types of accounts. The main difference is how many people can watch at the same time. Either one, two or four screens can be running at the same time. One screen is the basic account. Two screens offer HD and four screens offer HD and Ultra HD as a bonus. The price difference is the following: 7.99 Euro per month for one screen, 9.99 Euro per month for two screens, 11.99 Euro per month for four screens.3 Simply enter your credit card number and the money gets paid automatically every month until you cancel your subscription. The first month of Netflix is a trial period and therefore free of charge.
Furthermore, one account can be divided into profiles – up to five per account. Each profile has its own name, language and allowed content. This way, a parent can create a profile for their child and manage what the child can watch. The choice consists of: "For Little Kids only", "For Older Kids and below", "For Teens and below" and "All Maturity levels".4
Lastly, when considering Netflix's qualities, original content should be mentioned. Netflix produces a variety of different movies and series only available on Netflix. These include anime series, documentaries, TV specials and stand-up comedy specials.5 Honourable mentions: House of Cards, Stranger Things, Sherlock (Season 3), Orange is the New Black, Daredevil, 13 Reasons Why. 6
Netflix is also an excellent choice if one wants to avoid piracy. First and foremost, piracy is illegal. Furthermore, it is tiresome and time-consuming. For an acceptable fee, you can watch anything Netflix offers and for however long you wish. Everything has subtitles and is free of advertisements. There is no need to commit a crime.
I conducted some small-scale research for the benefit of this article. About fifty students and learners of English responded to my survey. When asked, more than a half of them had already heard about Netflix, but many did not know how it worked. Only about twenty percent had tried Netflix. Of this twenty percent, thirty percent had already cancelled the service. The rest either owned an account, used somebody else's account or shared an account with someone. The people who had cancelled their subscription did so because the service offered only a small number of titles, too few titles in general and/or they did not have time to use the site. Of those who had not tried Netflix, about forty-five percent would like to give it a try. Positive arguments included a dislike of the controversy of piracy, liking the service, access to movies and series, the fact that there are no advertisements and the opportunity the service offers to improve one's English. Arguments against mostly concerned money.7
I myself jumped at the opportunity to try Netflix when it first became available in the Czech Republic. I heard about it from movies and series, pictures on the internet, discussions, memes, etc. I was hesitant at first, but after the first month I was persuaded – Netflix is worth the money. I can watch whatever I want from the library. There is not always everything I crave, but there is always something to watch. I never have a problem with not having anything to watch. There are no advertisements and everything is in English, which helps me stay sharp while studying English. I can't stand Czech television. I find most of the programs nowadays stupid beyond reason and I strongly believe that translation and dubbing influences the material in a negative way. It is not always the fault of the translators/voice actors/production, but some things are simply untranslatable. Furthermore, there are subtitles available for the whole content, which I absolutely love, as I prefer watching with subtitles. All in all, Netflix is an interesting service and deserves to be given a chance, for the trial period at the very least.
List of Resources:
Netflix. "Netflix Timeline". n.a. Accessed 30.4.2017.
https://media.netflix.com/en/about-netflix
Hooton, Christopher. "Netflix 'moving quickly' on globally accessible content to remove need for VPNs". 7.1.2017. Accessed 30.4.2017.
http://www.independent.co.uk/arts-entertainment/tv/news/netflix-moving-quickly-on-globally-accessible-content-to-remove-need-for-vpns-a6800376.html
Netflix. "Change Streaming Plan". n.a. Accessed 30.4.2017.
https://www.netflix.com/ChangePlan
Netflix. "Manage Profiles". n.a. Accessed 30.4.2017.
https://www.netflix.com/profiles/manage
What's on Netflix. "Complete List of Netflix Originals". 7.10.2016. Accessed 30.4.2017.
https://www.whats-on-netflix.com/originals/
What's on Netflix. "Netflix Original Dramas". 18.4.2017. Accessed 30.4.2017.
https://www.whats-on-netflix.com/originals/dramas/
Formuláře Google. "Netflix". n.a. Accessed 30.4.2017.
https://docs.google.com/forms/d/1j4mVRXx6Lpp4BDPzElI1r5qAS4QEXhADrTxSrRQpjo8/edit#responses
List of Figures:
Netflix and Chill
Audiomack. "17 results matching 'Netflix And Chill'". n.a. Accessed 30.4.2017.
https://www.audiomack.com/search?q=Netflix%20And%20Chill&page=2&show=music&sort=popular
Netflix Interface
Netflix. "Browse". n.a. Accessed 30.4.2017.
https://www.netflix.com/browse